When our growth cycle required us to find a bigger home, we gladly took our own integrated delivery medicine. The collaboration with trusted design and trade partners has been paying dividends ever since.
As you'll read on our about page, Ingenuity used painfully-won industry experience to shape our model when we first started. This phase of our growth would be informed by our successes.
We'd won the trust of designers with our attention to detail and constructive feedback. We'd earned the trust of top trade partners by applying ethical standards commonplace in other industries. And we'd worked with a smart communications design partner to make it easy for the right prospective clients and team members to see our differences sooner.
This maturity would need to be reflected in our space. 
Beyond being big enough for our growing team it would need to manifest,  support, and reinforce our values.
'Health and productivity per square foot' would demand natural light and high ceilings. 'Transparency' led to glass office windows and exposed ceiling mechanicals. 'Collaboration' led to open and closed group work-space. Our focus on 'relationships' led to an open kitchen, an espresso bar in our lounge, and a configuration that gives the most people the most daylight, not the offices.
Remember, this is not a huge space. And we're not a tech startup. We just made a space that felt like us. Looked like us. That we could be productive in. Be inspired in.
Victoria Horobin of KBH Interior Design Inc. played a critical role in bringing dimension to our values and visual identity. She gave us the courage to use our space as a canvas the way we had with our visual identity and marketing materials; bold yellow doors and strong black accents. And designed spacing between personal work areas subtly but sufficiently–divided that we could avoid walls.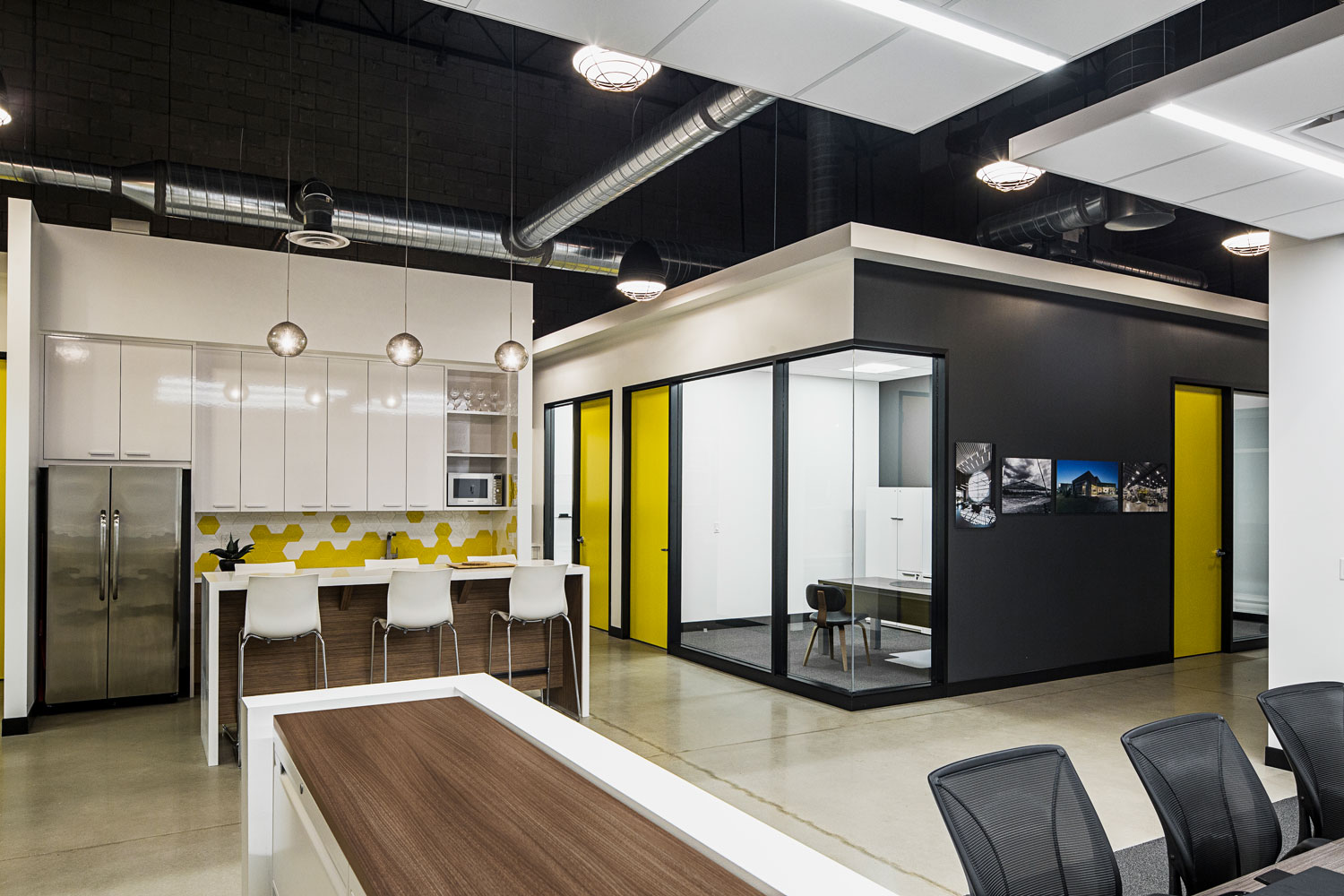 Victoria's deft ability to balance communication and productivity was also the inspiration for 'cloud' ceilings over the common workspace that not only helps absorb and control sound, but create a structured yet open work area. And she found an elegant way to both integrate our receptionist and give visitors a glimpse through reception into the communal work area.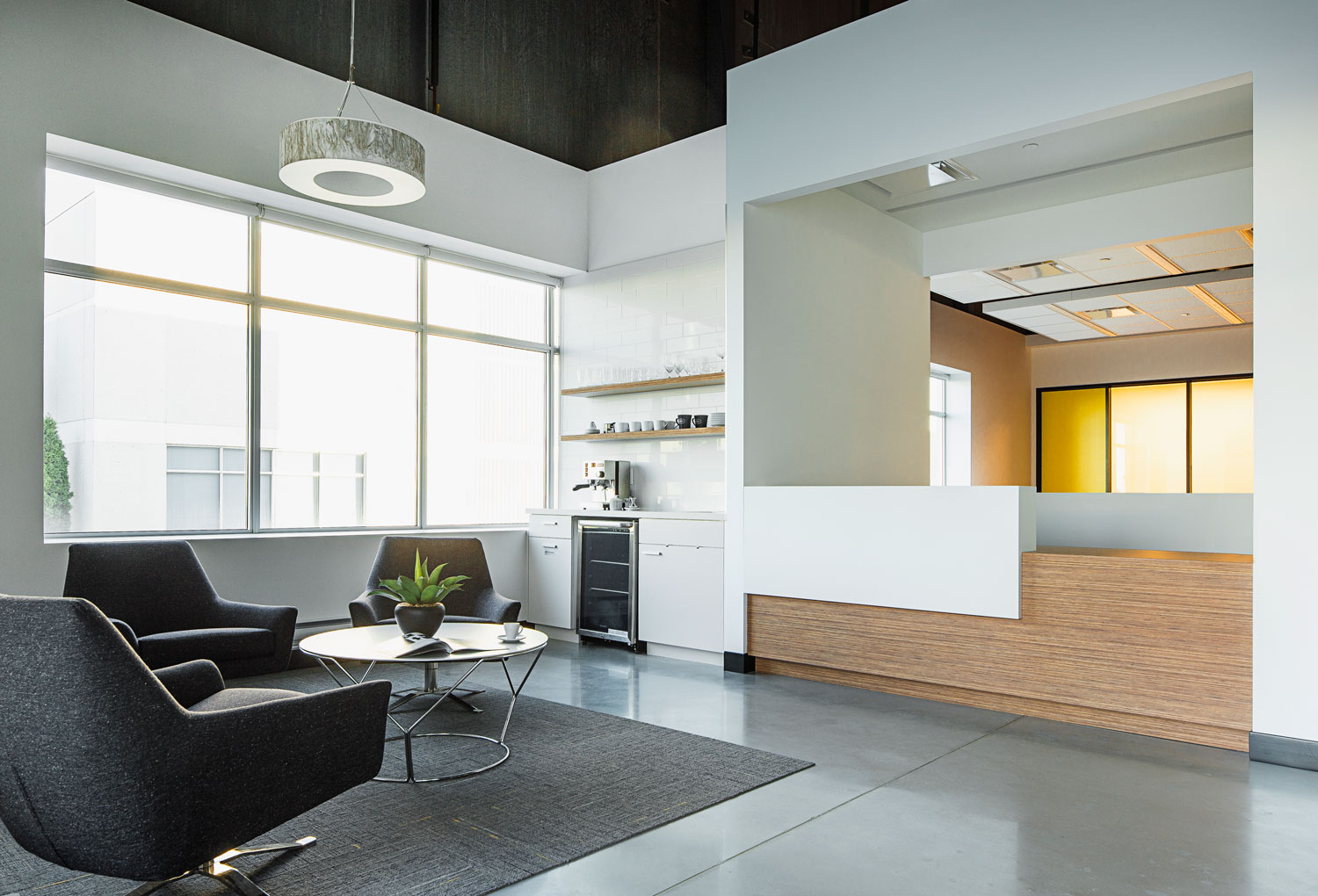 Our approach to polishing the concrete floors was at the forefront of this now commonly-seen design trend. However this served as reminder that the most important skill on a job site is flexibility. The legacy floor we inherited wasn't the type of concrete we'd typically specify for the finish we were after.
Part of the job involves making use of what you've got. We made the polish work. And the ownership approach taken by our trades was evidenced in their level of craftsmanship. The black trim made it a challenge to ensure straight and square lines throughout the space. But they did.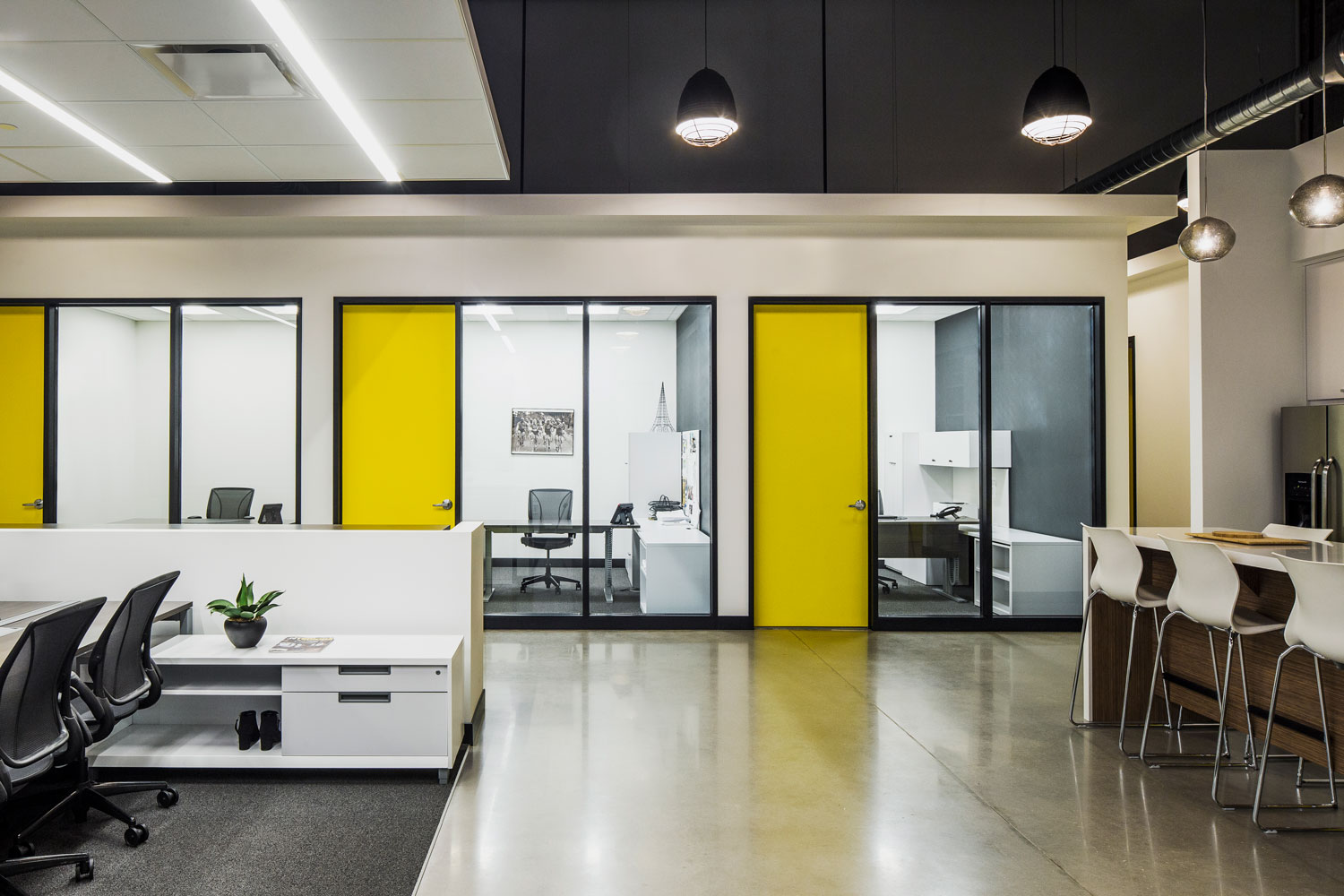 A design/build project is a dynamic process involving progress, challenge, discovery and resolution. This was no different. While we were ready for and ably addressed the bits of friction that came up to maintain our momentum, hindsight always offers fresh perspective.
If we could go back in time, we'd tell ourselves that we'll be victims of our own success. We're already outgrowing the space. We could have been a little bit less conservative with our growth plans and built in more aggressive growth projections.
Oh well. Good problem to have.
And we can use the lesson to advise our next client :).
Come visit and we'll walk you through everything we learned.