In 2019, Walker Industries decided to build a new corporate office in Oakville, Ontario. The plan was to transform a vacant space into a modern, high-end office.
We had been working right next door expanding the Oak West Corporate Centre with a new building, and also renovating older units into modern and highly functional work spaces down the street in Burlington. That's how we got to know Walker Industries, they were an original partner in what would become the Northgate Business Park. We hit it off right away with Walker Industries. So when it was time to build their new HQ, they asked us to participate. We were excited to get started in December, 2019.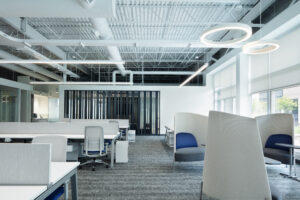 The design, developed by our design partner Scasserra Meschino, was smart and dynamic. The floor plan combined open concept work stations, collaboration zones, meeting rooms, and offices, all separated by glass to let natural light flood every square inch. Being a construction materials and services company, Walker Industries knows the power of using top notch materials and getting the details right.
Details that Matter
To complement this airy design, we constructed two knock out feature walls. At the far end of the building, in what could have been a forgotten corridor was elevated into a stunning living wall. The 14 foot high wall of flowers and greenery brings nature into this urban office, and improves moods and air quality year around.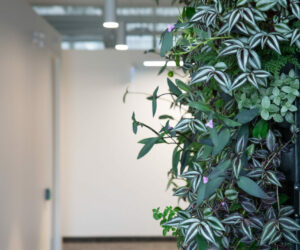 The second feature wall was a stone wall that was built in the boardroom, using stones brought directly from one of the client's quarries. Walker Industries began with a single quarry in 1887, and has grown into a multimillion dollar power house with a diverse product offering, but their stone products remain near and dear to their hearts, as well as being a critical part of their brand identity. For the feature, the stone had to wrap around a furred-out wall. So our team worked closely with our stonemason trade partners in making sure we honoured the materials that were so much a part of Walker's identity. The results were exactly what our client was hoping for.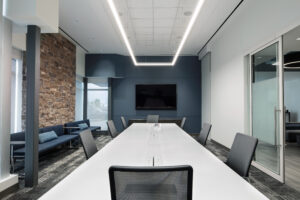 Working Safe in a Pandemic
Great client, great design, great partners – besides some minor set backs with permit delays, things were going smoothly and we were in our comfort zone. At least we were until March 2020, in the middle of construction, Covid 19 hit Ontario. We had to pivot because no one gets to stay in their comfort zone during a pandemic. It was all hands-on deck to make sure we lived up to our commitments to our client, while keeping our staff, partners, and clients safe. Working fast we developed new Covid 19 policies and procedures. When allowed back to work, we limited visitors to essential site staff, enforced social distancing (especially between different crews), built hand washing and sanitizing stations, and distributed face masks. With these new procedures, we were able to keep everyone healthy and deliver a finished project that was just what our client imagined.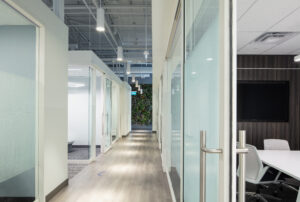 In construction, we are used to problem solving and navigating clients around road blocks. A pandemic was something new but we pride ourselves on working with our clients to find the right solution to any obstacle. We couldn't be prouder of our how this project ended up.