A problem solver, a people person, a jack-of-all-trades — a project manager in the construction sector should be passionate about the many roles they play on the job.
Ask anyone who works in the construction sector, and they'll tell you what they love most about their job: teamwork, problem-solving, and hands-on work are all common threads.
It's one of those industries where the results are tangible — you put in the work each day, and at the end, you see the finished product. You can open the door of a building and walk through. Whether they are on-site or in-office staff, construction professionals agree that this is one of the most satisfying aspects of the job.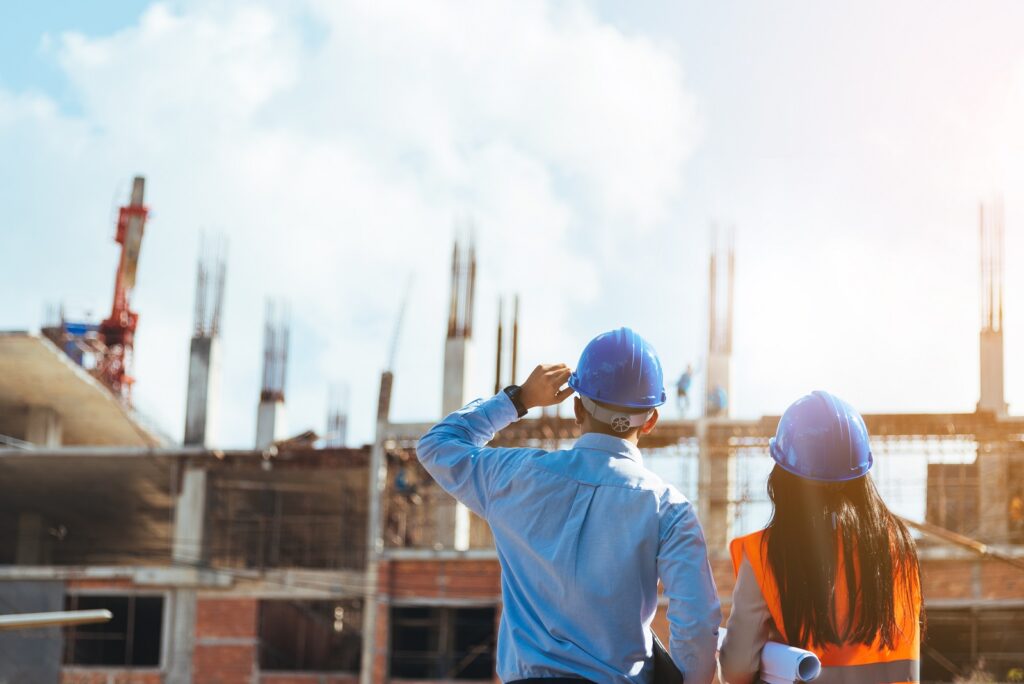 "There is a feeling of elation when the drawings come to life, especially knowing how much hard work (late nights and early mornings) is put in by the construction team," says Steven Giannetta, Project Manager at Ingenuity. "Once you hit Substantial Performance and turn over the space to the client/end user, there is a sense of accomplishment, knowing they will appreciate all the effort that was put in to construct their space."
The final product takes months or years of collaboration, coordination, and hard work on all sides. If you're a project manager, you get a bird's-eye view of the whole project, because your job is to see it through from the initial design sketches to the final building and beyond.
"You work with permits, public entities, consultants… and you actually build it," says Ramon Campos, Project Manager at Ingenuity. "You see the entire life of the project, not only the construction."
You also need a broad set of skills to excel at the job. From managing relationships to reading blueprints to watching work take place on site, project managers play a key role in every stage of a construction project.
While Ramon and Steven agree on many of the finer points of project management in construction, they took different routes to get where they are today. You can generally get there with the right post-secondary education, strong industry experience, or a combination of the two.
If you're a problem-solver, love working with people, and have a keen interest in the inner workings of construction, a career in project management may just be the right fit.
Here's what it takes to make it in the industry.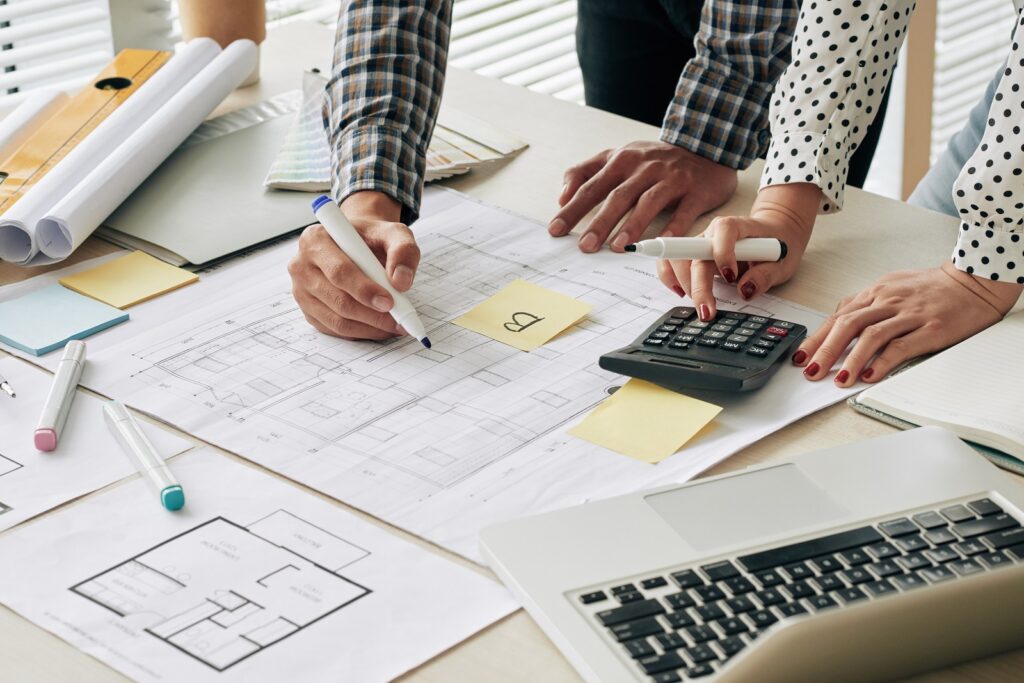 Construction PMs: Core requirements and responsibilities
An analysis of the labour market in Canada shows an expected total of 28,000 new job openings for construction managers over the period 2019–2028. If you're looking to join the workforce in this sector, you'll need to pave a clear career path with relevant education, skills, and experience. So, where do you start?
It's not always required, but construction project managers often begin their careers with a bachelor's degree in a field related to construction, such as building science, construction management, facilities management, construction engineering, or surveying and civil engineering. A master's degree in one of these fields can broaden your career opportunities.
Professional certifications, internships, and additional courses can also boost your chances of success. Consider courses in building code compliance, cost estimation, or civil construction. Common certifications are Certified Construction Manager (CCM) and Certified Commercial Building Inspector.
As for work experience, employers in this sector usually require several years of background in construction, including past work as a construction supervisor, project coordinator, or field superintendent. If you don't meet the post-secondary education requirements, you may be able to make up for it with extensive industry experience.
Other helpful skills and experience include work with specialized construction equipment and tools, using office equipment and software, understanding blueprints and building codes, familiarity with CAD and BIM software, and on-site work in a construction-related field.
No matter how you get there, experience communicating and coordinating between different teams is a must. Project managers work as the go-between for parties such as architects, engineers, construction teams, clients, vendors, and contractors.
As the main overseers and liaisons of a construction project, they should be able to juggle tasks and pivot quickly when conditions change. Project managers have a hand in scheduling, hiring, budgeting, allocating resources, obtaining permits and licenses, supervising on-site work, ensuring compliance with regulations, negotiating with vendors, planning various phases of a project, and keeping everything on schedule.
It's a lot of work. Project managers won't tell you otherwise, but your education and experience make all the difference in setting you up for success.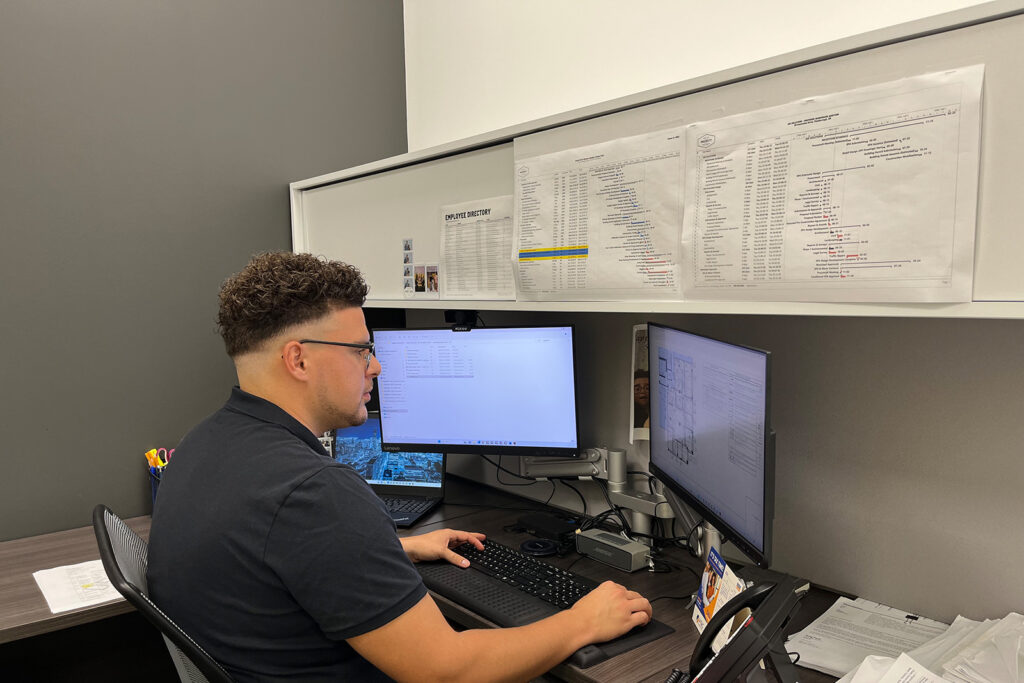 Steven Giannetta: The on-site beginning
Steven began his career in construction in high school when he took on a summer job as a general laborer at a small contractor. That summer, mixing concrete and setting up scaffolding, convinced him to work towards a full-time career in construction. Later, he enrolled in a college program for Construction Engineering Technology Management.
After a few years working in lumber and building materials, he made the switch to project coordination and junior estimating.
Starting as a Junior Project Manager for a small family-run construction company, Steven acquired experience in all facets of construction from an estimating and management perspective. His work slowly evolved from project coordination into small project management, and then into larger-scale projects.
That trajectory got him to Ingenuity, where Steven has been working since 2021. His main responsibilities include stewarding construction projects, supporting various team members from site superintendents to field staff, and protecting the client's best interests.
Steven's firsthand experience in the construction industry, he says, is now an essential part of his project management work.
The hands-on experience is crucial to setting realistic expectations, establishing goals, and relating to various team members who have their own interests. His work involves seeing from the perspective of others at all levels, whether it's on the field, sub-trades, owners, architects, engineers, stakeholders, or other high-level executives. Having on-site understanding helps bring together all aspects, then you can find a solution that works for everyone involved.
Ramon Campos: The specialized route
Ramon studied civil engineering at the University of Alicante in Madrid, Spain. He worked as an assistant project manager before moving into project manager roles himself. His firsthand experience with projects helped Ramon understand the importance of health and safety on job sites, so he returned to school for a master's degree in project management with a focus on health and safety.
"I knew right from the beginning that I would like to work with people," Ramon explains. "I like the integration of working together to achieve things as a beautiful aspect of construction. It's about looking back on projects and seeing that something has been achieved."
Before moving to Ingenuity, Ramon's role was focused on the pricing aspect of construction. "What made me move to Ingenuity was the design-build aspect, because you see the entire lifespan of the project."
Today, Ramon says his role is approximately 20% planning and 80% supervision and management. The on-site teams benefit from his knowledge of codes, bylaws, and other regulations that may be required for the project. He needs to understand all the expectations to communicate well with the team.
Ramon says his previous studies in engineering were critical in helping him understand all aspects of a construction project.
"[As a project manager], you can be a jack-of-all-trades because you know a little bit about everything: electricity, [materials and parts], structural design. I think studying engineering allows you to understand all the concepts involved, because you cannot manage what you don't understand."
That technical knowledge helps project managers read schematics or drawings, which makes it easier to communicate expectations and instructions between teams.
With all the prompt communication that needs to happen each day, Ramon compares the job to the image of spinning plates on sticks — to keep the plates spinning, you need to keep nudging them, one by one, in the right order.
"If some of them slow down, they may fall," he says. "You need to keep pushing things forward. Communication is a key part of that."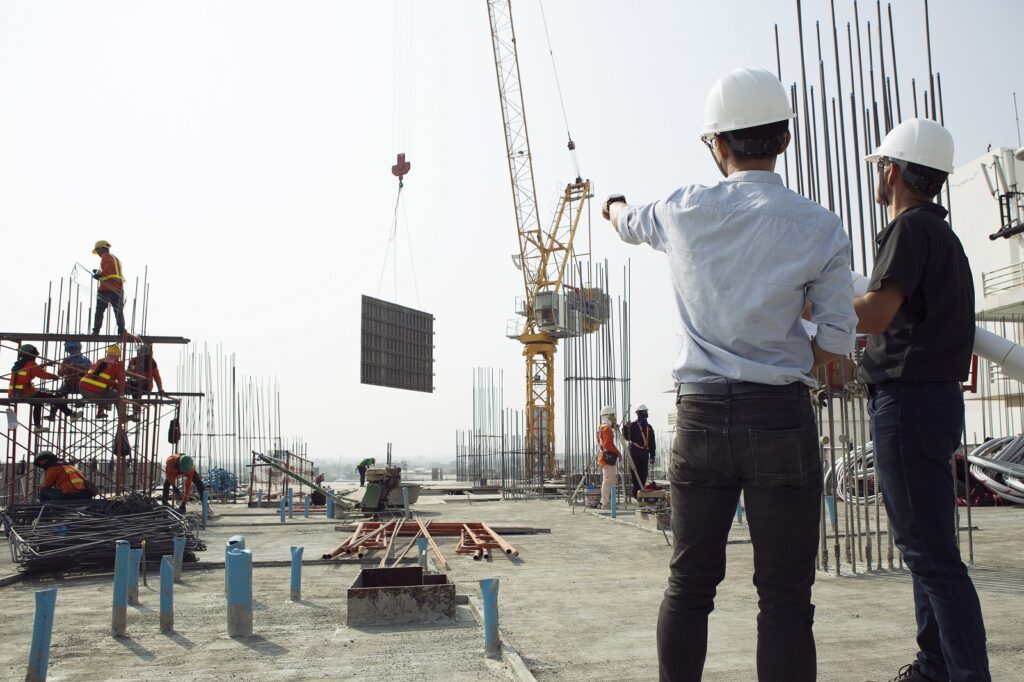 Making an impact in construction
Once you have the experience and qualifications for project management in construction, it's all about finding a company that aligns with your goals and values.
Monica Beauregard, president of Bridgepoint HR, has supported Ingenuity's hiring initiatives for more than six years. She says Ingenuity tends to be a great fit for results-oriented, forward-thinking professionals who are looking to make a big impact in the workplace.
"Someone familiar and motivated in a small company environment [would do well at Ingenuity]," she explains. "You need a roll-up-your-sleeves mentality — a team player, someone who is looking for challenge and growth."
As a growing professional design-build and general contracting team with a strong reputation in the market, Ingenuity offers employees a welcoming environment with plenty of opportunities to expand.
"If you're really looking to add value to the team, you can go in and make an impact right away," Beauregard says. "[Employees have] a breadth of exposure to interesting projects. There's flexibility. And because people are working closely together, there is that feeling of family and caring, and you have more access to senior management."
The tight-knit teamwork, plus the open-door policy with Ingenuity's management team, means closer working relationships and better internal communication.
"You have access to some really intelligent people, and you can tap into their expertise," Beauregard adds.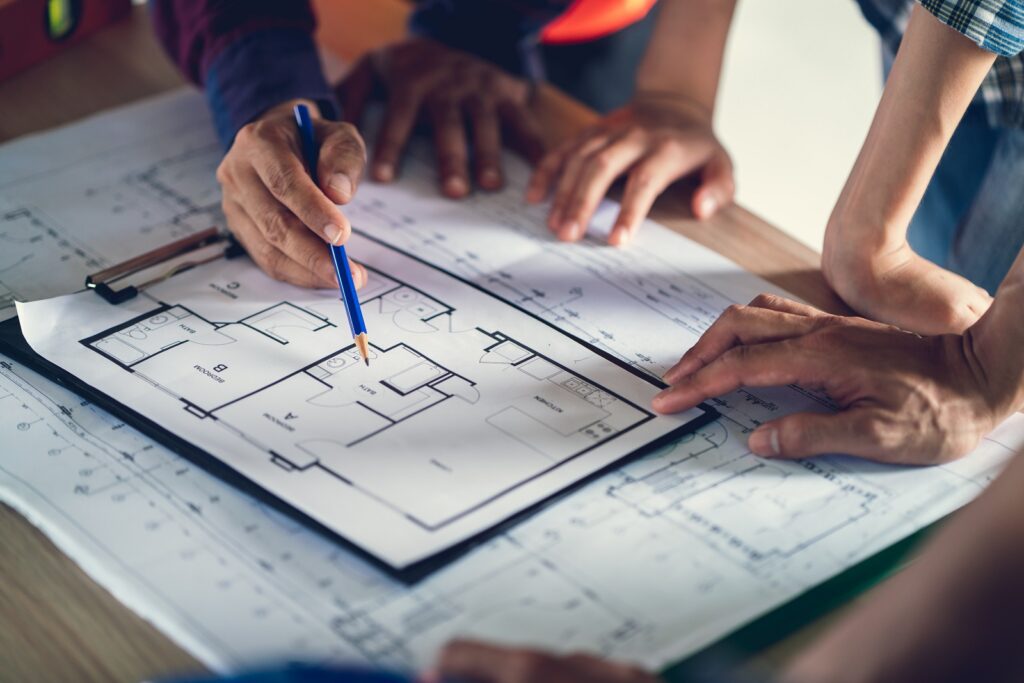 The right attitude and approach
Because they're involved in every stage and aspect of the construction process, project managers need an array of skills to help projects move along smoothly.
"You play a role in [helping everyone] work together," says Ramon. "You bring information from one side to another to keep the project moving. You can't let it stall. And so, you need not only to have a positive attitude, but also a proactive one."
While technical knowledge is critical, much of the job involves using problem-solving skills to overcome challenges. When you're coordinating so many parties on a project of great magnitude, questions and concerns are bound to come up, and project managers need to face those roadblocks with a positive attitude.
"Roadblocks are my regular Tuesdays," Ramon jokes. "We may find roadblocks in the sense of making design adjustments to meet the client's expectations, or you may have to deal with delays."
A love of working with people is essential. Project managers encounter a number of different personalities on the job, and each one requires a nuanced approach.
"When I studied project management, one of the first things I learned is that it's both an art and a science," he explains. "Project management has a structured, mathematical approach, but there is an art in how you work with people. That is one of the skills that cannot be taught."
Steven says these key skills — teamwork and problem-solving — are the two main features that first attracted him to a career in construction project management.
"The first thing was camaraderie. Working in construction, you're always faced with new teams, and there's always an aspect of building relationships," he explains. "The second was problem-solving. You have to troubleshoot and think outside the box when there are issues regarding schedule, methods, or materials of construction. I really like the puzzle-work aspect of the industry."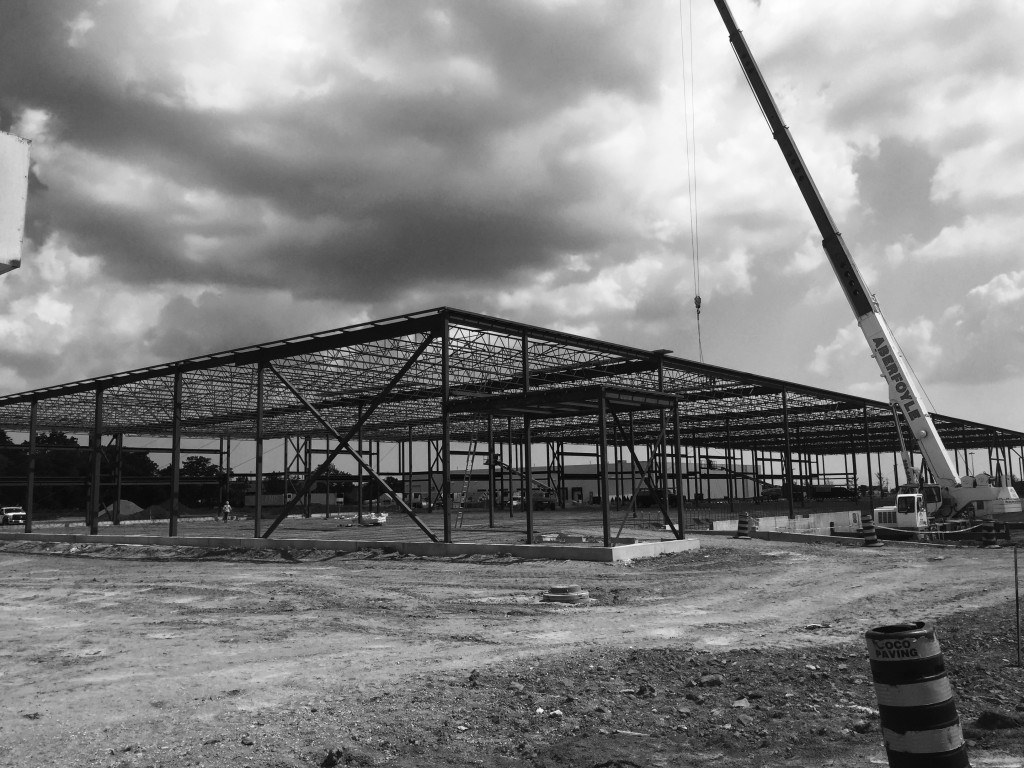 Job satisfaction: Results you can see and touch
When asked what he enjoys most about working for Ingenuity, Steven mentions the team environment and company philosophy of "build it like they used to," which is all about taking a more human, people-first approach to construction.
"Build it like they used to" is not necessarily about the physical method of construction — it's a passion for craftsmanship. The key to that statement is that it speaks to the relationship between us as the master builder, the architects, and the client. It's taking a team approach and a positive attitude to make the vision of the building come to fruition.
"The aspects that stand out to me are working as a team towards a common goal, getting the project completed on time and within budget. Building and growing relationships with various vendors, trades, and clients," Steven says. "Expanding my construction knowledge and gaining experience through the various challenges and issues that arise on projects."
But, of course, seeing the building as the finished product is still one of the main highlights of working as a project manager in construction.
Ramon says his favourite part of the job is seeing the appreciation on a client's face when a job is done, and being able to see the building in its finished form.
"It's the satisfaction that comes from finishing a project," he says. "Sometimes I drive around with my kids, and as we pass a building, I can point and say, 'Yeah, I made that one.' The satisfaction is what I like the most."
Curious to learn more about what makes the Ingenuity team special? Read more about us, or contact us directly to ask about career opportunities.